A little part of me dies inside every time another Lingerie Football League slide show graces the virtual pages of our paper product, but I understand that the unabashed ogling of scantily clad women is now, more than ever, what makes the legitimate news world go round (see Post, Huffington. Woman wears corset to lingerie fashion show! Cats and dogs living together! Ice cream eaten before dinner!). Thusly, I capitulate to the wanton needs of The Male Gaze Interwebs Machine. Which is why I am now pleased to invite the female gaze into the mix, however briefly, for a lingerie football excursion of our own, featuring David Beckham stripping down to his skivvies during yesterday's LA Galaxy game against FC Dallas.
Seems Mr. Beckham cut his finger, which then bled on to his shorts, which had to be removed on the sidelines in full view of the crowd and photogs. Sadly, this took place in Los Angeles rather than Frisco, which means the legions of dedicated FC Dallas fans, who are no doubt extremely pumped about the pending playoffs, missed out on the Becks-bottom.
I commissioned an animated GIF, created by our own web editor Nick Rallo, which follows after the jump -- it's moderately NSFW, so for those of you who are affected by such constraints, I will answer your burning question: briefs. White ones. Jump for an image that'll make Team No Pants members the world over squeal with joy, as Becks takes his shorts off over and over and over and over and over ...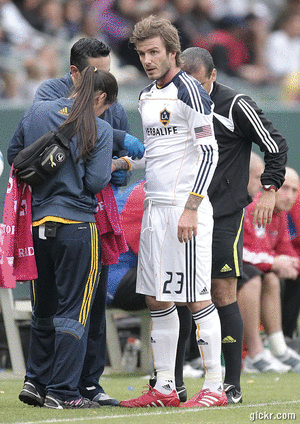 Made at Gickr.com
We Believe Local Journalism is Critical to the Life of a City
Engaging with our readers is essential to the Observer's mission. Make a financial contribution or sign up for a newsletter, and help us keep telling Dallas's stories with no paywalls.
Support Our Journalism