Firebird Fowl
recently opened in Uptown at 2816 Fairmount St. in the former coop that used to house Nick & Sam's Grill and Martini Ranch. Owners David Taylor and Timothy Summers say their original idea was for a Nashville hot chicken place, but after seeing several similar restaurants open recently, they decided to differentiate themselves and do something that Dallas has never seen.
They've now incorporated all "birds of a feather" into their menu, including chicken, turkey, emu, quail and ostrich, and they're offering some unique dishes that warrant flocking to Uptown to try, like an emu steak sandwich, chicken fried emu and cornish game hen tikka masala.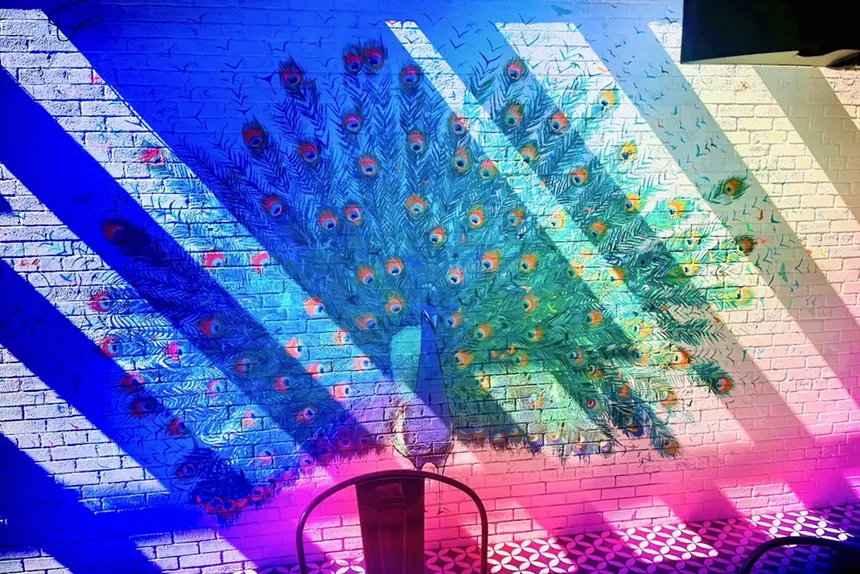 The two-story space has indoor seating as well as climate-controlled patio seating. The upstairs area, known as "The Nest," has a lounge feel to it with a DJ booth overlooking the main dining area and can be reserved for private parties.
This place flies hard on the bird theme — there are bird of paradise flowers on the back bar, and their wine selection includes names like Decoy, DuckHorn, Blue Quail, Chicken Run, Pink Flamingo, and Migration. Their cocktail menu follows the same theme with infused vodkas, tequilas and bourbons.
For those who are freaked out at the thought of eating emu, ostrich or quail, it is true what they say: It tastes like chicken (or beef). Only it's better, and it's better for you because theres are all lean, healthy cuts of meat. Executive chef Ben Smallman, who worked at Eately markets across the U.S., is getting creative with the endless possibilities of what can be done with different types of fowl.
For starters, you can't go wrong with the loaded ground ostrich blanco queso or the ostrich stuffed mushrooms. Ostrich has the consistency of ground beef. The queso has a nice kick to it, but not too spicy and the stuffed mushrooms are topped with Manchego cheese and are served with their homemade white BBQ sauce, which has blue cheese mixed in it and is a surprisingly great combination of flavors.
For our next visit, we'll try their version of the Nashville hot chicken sandwich (called The Firebird), since that was part of their original concept. But they were offering a limited-time lunch special, so we opted for their emu fajitas and ostrich lasagna entrees instead.
The emu fajitas are served with sauteed vegetables, duck fat black beans and all the usual garnishes (photo at top). Emu tastes like a lean cut of steak and is very flavorful. If you're partial to beef on the medium-rare side, be sure to specify this when ordering. They can be cooked to your desired temperature, but if you don't specify, they will come out more on the medium to medium-well side.
The ostrich lasagna is fantastic, but go either very hungry or prepared to share because the portion is certainly large enough for two or more people. It's served in an iron skillet and has layers of lasagna noodles, ground ostrich, ricotta cheese, marinara, mushrooms, Parmesan cheese and spices. It is ooey-gooey delicious, especially the crisp edges.
And just when you think you can't stuff anything more into your mouth, it's time for dessert. The owners are also the creators of DizziBrands, which specializes in alcohol-infused desserts. Think boozy popsicles, cheesecake, pies and ice creams with different flavors like margarita Key lime, bananas Foster (with rum), blueberry lemonade, blood orange mimosa, or cookies and cream (with whiskey). The popsicles have 14-15% alcohol content, so don't plan to order these sweet treats for any little peeps in your party.
Firebird Fowl, 2816 Fairmont St., 11 a.m.-10 p.m., Monday through Saturday. Closed Sunday.