With fewer than 10 days till opening day, the State Fair of Texas has released a
list
of new foods to try and the schedule for the Celebrity Chef Kitchen in the Creative Arts Building. Between all that and the Big Tex Choice Awards
winners
, that's a lot of food to consider, so we've put together some tips for you.
If you refuse to make fair day a cheat day (ahem,
Mr. Mayor
), we'll have a list of suggestions for you a bit later, once the full State Fair guide is released. But if you've planned ahead for your trip to the fair and have your stretchy pants ready, here are some places you'll want to be sure to hit.
Celebrity Chef Kitchen

Located in the Creative Arts Building

Maybe Fletcher's Original Corny Dogs and OMG-they-fried-it foods are just too tempting, but for some reason, many people miss out on this great foodie opportunity. Four times a day, every day of the fair, some of the best chefs in Dallas cook real food and teach you how to do it at home. Best of all, they offer sample tastes at the end.
Longtimers will be delighted that opening day (Sept. 24) is the same as always with Allison Hodges & Katrina Warner from Tarrant County College, Janice Provost of Parigi, Sharon Van Meter of 3015 Trinity Groves and Uno Immanivong of Red Stix. Provost's previous demos have included fried arancini balls and homemade Nutella, and Immanivong might just give out free hot sauce as she has in the past.
Amber Fletcher of Fletcher's Original Corny Dogs will join the celebrity kitchen for the first time this year. The rest of the lineup is a veritable who's who of chefs in Dallas and the surrounding area. Tiffany Derry (Roots Southern Table), John Tesar (Knife), Nikky Phinyawatana (Asian Mint) and Meaders Ozarow (Empire Baking) are just a few of the local food stars you can watch in action.
Wednesday, Oct. 6, might be a
good day to take the day off from work to go to the fair,
just to see this kitchen demo lineup. Diana Zamora, whose baked goods are the talk of the town, leads off at 11 a.m. and Brittany Bryant, whose pizzas draw raves at Vector Brewing takes the stage at 12:30. The afternoon demos will be from the Texas Beef Council, and that likely means free bites of steak afterward.
Visit
BigTex.com
for the full schedule.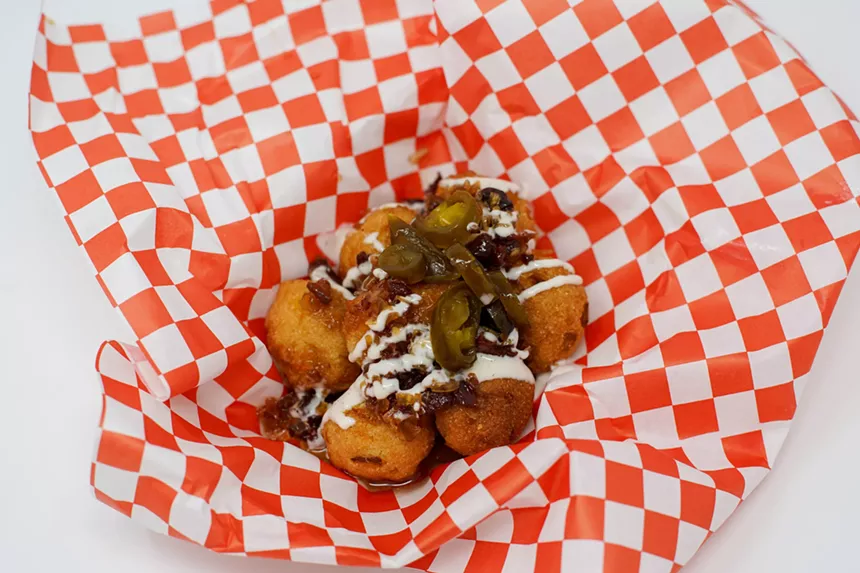 Cotton Bowl Plaza

Located in front of the main entrance to the Cotton Bowl

This might be one of your usual stops for cheap beer at Beer Barn, but this year the longtime suds vendor has something special for you: their Frozen Ranch Water was a semifinalist in the Big Tex Choice Awards, and if you're looking for something lighter to drink, this will be a big hit.
Opposite the Beer Barn, you'll find two new fair foods this year. One of them is Jack's Mexican stand, which will offer Deep Fried Toffee for your sweet tooth.
You'll also find the Texas Cheesesteaks booth across from Beer Barn. It's manned by
Southside Steaks and Cakes
, a fantastic restaurant that's been serving up great cheesesteaks for six years in the Fair Park neighborhood. Owner/operator Chris Easter was delighted to have his family business accepted as a concessionaire from over 130 applicants. (Only four spots were open.) You can follow their Road to the State Fair journey on the
Southside Steaks and Cakes Facebook page
.
Tower Building Food Court

Located behind Big Tex


Always a must-stop for fair food aficionados, the Tower Building food court is home to 10 of the dishes on the new foods list. Here are some to check out.
Bailey's
This is the place to get your Bacon Jam Corn Bombs. These crispy corn hushpuppies are topped with warm bacon jam, ranch dressing and homemade candied jalapeños.
Benavides Foods

In addition to a wide-ranging fair menu, this year, Benavides is bringing Country Fried Shrimp Grits, a cheesy deep-fried treat full of shrimp and topped with crawfish sauce.
BW's Fried Ribs

At BW's is serving brisket on a lightly toasted Vietnamese baguette for the Texas BBQ Brisket Banh Mi.
Gourmet Royale & Southern Fried Chicken

Winners of Big Tex Choice Awards for both the Most Creative and Best Taste Savory this year, Gourmet Royale is bringing their doubly prized Deep Fried Seafood Gumbo Balls. They will also be serving up Southern Fried Lemon Icebox Pie Balls at their booths here and at multiple locations on the fairgrounds.
Helmut's Strudel

Hungry for strudel? Take your pick from apple, cherry and cheese at Helmut's Strudel.
Highland Park Soda Fountain

The beloved long-time nostalgic restaurant may have closed for good, but it comes to life again each year just for the fair. Along with many favorites from their nostalgic menu, this year you can get the Big Tex Choice Awards finalist, Texas Pumpkin Poke Cake.
Ranchero Norteño

This longtime concession stand run by the Garza family has had several Big Tex Choice Awards finalists and snagged a couple of wins as well. This year they didn't make the big time, but there's big flavor in their Twice-Fried Albondigas (Mexican meatballs) and Fried Capirotada (Mexican bread pudding).
Scrumbscious Pieshakes

Another vendor with several Big Tex Choice Awards, Scrumbscious Pieshakes has some creative options this year. Texas Easter Eggs aren't sweet and they aren't eggs; they're deep-fried balls filled with meats, spices, cheeses and peppers and decorated with Easter-colored ranch sauce. This stand will also offer Deep Fried PB & Razbrûlée, which mixes a kids PB&J with a very grown-up creme brulee.
Tony's Taco Shops

Proving everything doesn't have to be deep-fried and that all the flavors of Texas are better at the fair, Tony's will bring Quesabirria with Consomme to their booth in the Tower Building.
Fletcher's Original Corny Dogs

Some have said that going to the fair doesn't even count if you don't eat a Fletcher's Original Corny Dog. With seven stands on the fairgrounds (and one inside the Cotton Bowl), you'll have plenty of opportunities to check off that annual must-eat treat.
But this year, Fletcher's has two new menu items for you to consider. The Make Mine Texas is a corny dog as you know and love it but made with an all-beef and brisket blend dog.
The Dallas Hot Bird Dog is a true departure from their traditional menu and will only be offered at their huge stand near The Thrillway. (That's between gates 9 and 10 near the back of the Midway, where the thrill rides are.) You might want to try this extremely adventurous dish after you take a spin on those thrill rides. It's a turkey frank corny dog made with spicy batter which is then split open and topped with mac and cheese, jalapeños and Cholula sauce.
More Don't Miss Stops

Yes, we know, this is enough food for five days, but of course, there's more.
Ferris Wheeler's

This design district barbecue playground is bringing its food to the fair this year. Find their Gobble Balls (deep-fried smoked turkey nuggets) at their stand on the midway.
Pearlie's Southern Kitchen

One of the Big Tex Choice Awards semifinalists that inspired a lot of buzz was the Deep Fried Peach Cobbler Soul Rolls. You'll find them at Pearlie's (along Martin Luther King Jr. Boulevard behind the Cotton Bowl) along with another new dish, Deep Fried Shrimp Étouffée.
Bert's Concessions

Bert's Texas Fried Fritos® Pie won an online poll for the best fair food ever, and a stop at one of these concession stands is a must. They're also offering a new item this year, the Lucky Duck Dumpling, which is much like a cream-cheese-filled empanada. (I tried it; it's amazing.)
We've also heard that their fried cheesecake is heavenly, so put that on your already long list too. The easiest Bert's location to find is the one near the Hall of State where the parade rolls by at night.
With just a few days left until the fair, we're still anticipating the full visitor's guide, which you'll be able to download on
BigTex.com
. You can also pick up a guide at any Hospitality Center (the big red barn-like information booths), but getting it in advance will help maximize your foodie experience at the fair.
The Hospitality Centers are also the place to go if you're hankering for certain food and don't know where to find it. With giant binders listing every booth and every food at the fair, they can guide you to whatever your heart (and taste buds) desire.
Even if you're like Dallas Mayor Eric Johnson, whose heart's desire is to eat keto (at the fair?!?!), there's something for you to eat at the fair. Stay on the lookout in Observer Food and Drink for a story coming soon about healthier choices and various dietary options at the fair.