To a great extent, Barrett Brown is fueled by cheap tobacco and vengeance. The embattled journalist wants to inflict as much damage as possible on America, and recently, he's broadened his scope to include the United Kingdom. There, Brown is attempting to claim asylum, largely because he says he's been persecuted for his journalism in the U.S. But now, he's facing yet another stint behind bars, this time in Britain.
Over the past decade or so, Brown has crafted a reputation as an impassioned reporter with a serious rap sheet. His "bad boy" bravado and ties to the international hacktivist movement
Anonymous
have earned him nods on
popular television shows
and a legion of faithful followers. He'd previously allied — then fallen out — with WikiLeaks founder Julian Assange and journalist Glenn Greenwald. One person even threatened to blow up
D Magazine
if it published more of Brown's
columns
.
These days, Texas-born Brown is living on a canal boat in England with his girlfriend Sylvia, a former teen model with a penchant for engineering. Even though she doesn't smoke, she'll roll cigarettes for Brown, who was once known to always have a Marlboro in hand. Lately, though, it's cheap European package tobacco. "Because when one is on the run from all these different things, one has to save money," Brown explained.
Earlier this summer, the
Observer
caught up with Brown on a call via Signal, an encrypted messaging app. He'd recently been charged in the U.K. on public order and incitement offenses and had just wrapped his first court appearance in front of the Crown Prosecution Service, a British agency that conducts criminal prosecutions.
Between cigarette drags, a dog's barks and shouts from chatty British friends, Brown assured us in staccato, rapid-fire cadence he wasn't too worried about the case itself: "They really have done a poor job, even for the British."
Still, Brown fears that his latest legal dealings could complicate the asylum process.
"For that reason," he later said, "the case is actually worrisome."
*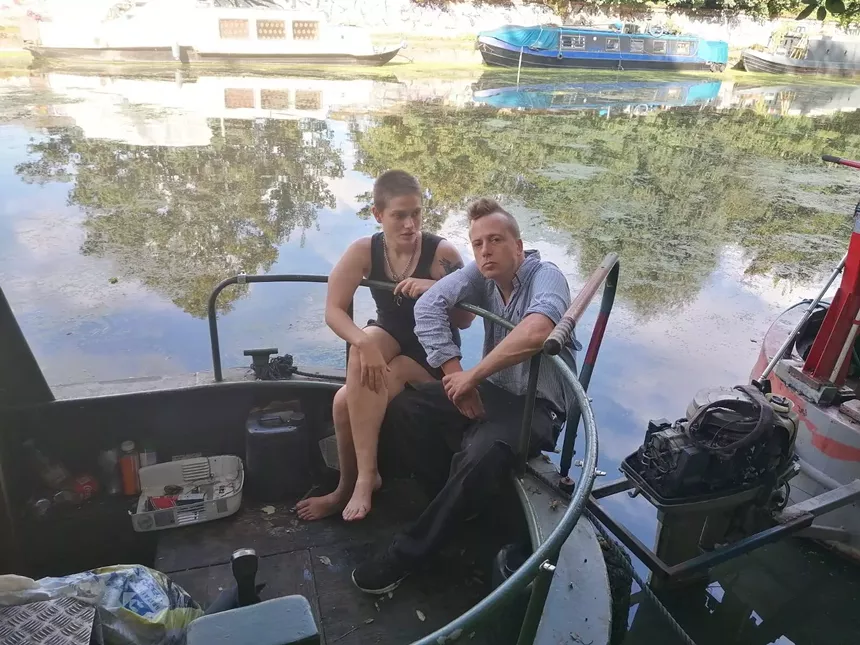 A Dallas native, Brown hasn't been shy about his demons, writing candidly about his years-long
heroin addiction
-turned Suboxone maintenance. In 2012, after his investigation into firms like HBGary and Palantir landed him in
hot water
with the feds for its use of hacked emails, Brown was indicted on charges related to the hacking of intelligence contractor Stratfor. He'd also threatened an FBI agent who'd
raided his mom's house
.
Later, writing for
The Intercept
, Brown penned a series of
National Magazine Award-winning columns
from behind bars. He faced 105 years in prison but ultimately was sentenced to 63 months and was ordered to pay nearly $900,000 in restitution.
"Good news!
Brown said in a statement following his sentencing
. "The U.S. government decided today that because I did such a good job investigating the cyber-industrial complex, they're now going to send me to investigate the prison-industrial complex."
After Brown's release from the pen in 2016, he was popped again the following year — this time, apparently, for the crime of
granting interviews to media outlets
. According to
The Intercept,
Brown's lawyer at the time said the re-arrest was retaliation
for criticizing the government
and he called those responsible a "bunch of chickenshit assholes that are brutalizing the Constitution."
Brown may have only been in London since November 2020, but he pissed off British police in no time. He wasn't a stranger to antagonizing cops, either, having similarly poked at
Dallas law enforcement
while reporting on the killing of Botham Jean, a Black man who was fatally shot in his own apartment by an off-duty cop.
Still, Brown said things had gone well during his first U.K. court appearance, in part because of his perennial Southern charm.
"They really have done a poor job, even for the British." - Barrett Brown

tweet this
"The judge was very deferential toward me because, unlike a lot of people who get arrested for anarchist activities here, I dress well," Brown said. "And I'm from Dallas; I'm not a squatter gutter punk. So that throws them off as an advantage."
At the center of Brown's latest legal skirmish is a banner that he'd held during a London protest over a
new crime bill
. The two-part banner originally read "COPS KILL," but at one point, the words had been rearranged to read "KILL COPS."
Some might find humor in the switcheroo, but the Back the Blue crowd wasn't laughing. Soon, right-wing provocateur and "Antifa"-hunting journalist Andy Ngo tweeted out a picture of Brown holding the
banner
. The Metropolitan Police Federation
shared a tweet with the image
too, adding that it had been "unfurled mere metres away" from where a colleague had been "murdered protecting democracy."
The following month, police arrested Brown on his girlfriend's canal boat, which was anchored in East London, the
Guardian
reported. He was released after making bail, but immigration officials immediately detained him because he'd overstayed his visa.
Brown has been charged with two offenses related to the protest, a Crown Prosecution Service spokesperson said by email: "Display any writing / sign / visible representation with intent to cause harassment / alarm or distress," and "Use threatening / abusive words / behaviour likely to cause harassment, alarm or distress." Aside from mentioning the date and location for Brown's upcoming trial, they declined to comment further because the "legal proceedings are active."
But Brown says he didn't create the "COPS KILL" signage in the first place; it's not really his style. Police know perfectly well who did, too, he insists, but they went after him instead.
"The cute thing about that is that … I've never held a banner before in my life. I'm not a banner kind of guy," he said, before admitting that he'd held this one up to help out his girlfriend's friends.
Brown alleges the FBI is conspiring to drag him back to the States, and while that may ring paranoid to some, those familiar with his case wouldn't find it unbelievable. In 2013,
Rolling Stone
dubbed him "America's least likely political prisoner," and press freedom groups
have heralded him a martyr
.
In 2014, the
Committee to Protect Journalists
(CPJ) celebrated the dismissal of 11 felony counts against Brown, which were related to a hyperlink he'd reposted containing stolen documents.
CPJ found it "incredibly problematic and offensive" that Brown had been targeted for merely sharing a link, said U.S. and Canada program manager Katherine Jacobsen. Many journalists do the same as a way of citing sources, and accusing Brown of violating the law made for a "very uncomfortable and concerning legal precedent."
Leakers faced aggressive prosecution during the Trump and Obama administrations, she said, and Brown's story is part of a broader push to prevent government officials from talking to reporters.
"If journalists are unable to hold institutions — whether they're public or private — to account, ultimately they're not able to fully do their jobs," Jacobsen said.
Parker Higgins, director of advocacy at Freedom of the Press Foundation, understands why Brown is seeking asylum in the U.K. He said parallels can be drawn to the
cases of Assange
and
British activist Lauri Love,
who was wanted by the U.S. for his alleged activities with Anonymous.
Anti-media rhetoric has soared over the past few years, Higgins said, and there's also been a marked increase in arrests and assaults on journalists by police.
"Press freedom really is in a precarious spot in this country," he said.
At the heart of the U.K. case is the police's claim that the "KILL COPS" banner would essentially traumatize any law enforcement officer who sees or knows about it, Brown said. Speaking after his hearing, he said prosecutors had added a lesser charge to fall back on if their case crumbles; to him, it seemed increasingly likely that it would.
On the same day that Brown pleaded not guilty in court, his lawyers received some documents by email, one of which appeared to have been sent in error. "It took me a couple days to really figure out what the fuck this was and to come to the conclusion that yes, they had actually sent us this fucking document that they're not supposed to," Brown said with a dry laugh. "That obviously changes the dynamics a little bit in terms of this case."
In what looks like an internal memo, British officials write that a statement from Metropolitan Police Federation Chair Ken Marsh is a "strength" for the prosecution. In it, Marsh had apparently alleged that Brown's "abhorrent, unacceptable, and dangerous behaviour" could have resulted "in a tragedy."
Of course, Brown disagrees that the banner was harmful, or that any officer who saw it would be scarred for life. If police really thought that, he said, they wouldn't have subsequently shared a photo of the banner on Twitter, multiplying it "by 100."
Law enforcement also listed a few weaknesses for the prosecution in the internal document that Brown says was accidentally sent to his team.
For starters, it appears as though an officer arrested Brown on the wrong charge: a "serious crime offence" instead of "S.46 Serious Crime Act 2007." (The latter is defined as "
encouraging or assisting offences believing one or more will be committed
," according to academic legal website LawTeacher.)
The same officer said in a statement that he'd "cautioned" Brown and arrested him for public order offenses, but body-worn video footage later contradicted that. Police also admitted that a livestream Brown had posted to Twitter about the incident "gives the impression he had no intent," although it's unclear what that means.
"Press freedom really is in a precarious spot in this country." - Parker Higgins, Freedom of the Press Foundation

tweet this
When asked for a response and to verify the document's authenticity, a representative for the Metropolitan Police Service said via email they "cannot comment on cases prior to trial."
Brown alleges that there's an "illicit, back-channel series of coordination" between the FBI, Metropolitan Police and the Home Office, the U.K's immigration department. The way he tells it, the FBI has been working to get him back to the U.S. and his team will be able to illustrate the attempted crackdown on transparency and information advocates.
Late last month, he tweeted out audio that
he believes bolsters that claim
.
"Secret audio of Special Agent David Ko of Houston FBI providing a source 'covert' assistance with child endangerment proceedings in exchange for information on activists, journalists, yours truly," Brown said in a tweet, which included a video of himself explaining the specifics with a parrot named Fredle perched on his shoulder.
In an email, public affairs officer Christina Garza said the FBI "will not validate any allegations made on social media and declines the opportunity to comment at this time."
*
In bygone eras, America billed itself as a bastion of freedom for refugees, but it's not completely unheard of for a U.S. citizen to apply for asylum in the United Kingdom. From 2004 to 2008, for instance, 45 Americans submitted asylum applications with the U.K. Border Agency because of a "well-founded fear of persecution," according to the
Guardian
.
But 132,640 asylum claims were made during that time, meaning of the total applicants, U.S. citizens made up just 0.03%. They were all turned down.
Still, Brown hopes to be an exception.
After he was released on bail in his U.K. case, Brown was detained by immigration authorities and sat down for what should have been a standard interview. He said an official assured him that his visa overstay of roughly a week was a "pretty minor deal" because there's normally a baked-in grace period.
But sometime after leaving the room, the official returned and changed his tune, Brown said. Suddenly, Brown's answers were unsatisfactory, and he was told that his six-month visa had actually ended in April. "Whereas in fact, counting to six from November, it ends in May," Brown said.
The Home Office, the British department responsible for immigration, security and law and order, didn't return a request for comment.
Brown isn't sure how his case will turn out. But even if he were to get slapped with the maximum sentence, he'd just be looking at six months behind bars, and he did more than that in solitary confinement alone in a facility outside of Dallas.
Penning award-winning columns from a rundown prison without windows and sunlight made for some of the happiest days of Brown's life; somehow, he said, it made him "feel less powerless." Yet years of apparent persecution and prison time seem to have taken a personal toll. "I've been told that I have PTSD," Brown said.
Regardless, Brown's bracing for the upcoming release of his memoirs, which will be given the film treatment in a screenplay he's working on with actor Alex Winter, of
Bill & Ted
fame. Also coming up is Brown's trial, which — as if by design — is set for Nov. 5. Known as Guy Fawkes Day, the "
fifth of November
" is a holiday adopted by Anonymous, whose members co-opted the iconic Fawkes mask to
shield their identities
.
Brown believes he'll get dragged back to the States eventually, but in the meantime, he's determined to stick it to police on both sides of the pond.
Even if he is found guilty, he'd make the best out of another prison stint.
"To the extent if they were to actually sentence me to three months," he said, "that'd be a perfect duration for me to do a couple of columns about the U.K. prison system, and they won't want that."