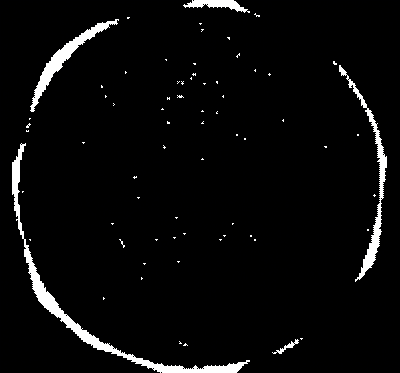 .gif credit: Alfredo Salazar-Caro

While we highly recommend getting out-of-doors for the absurdly awesome marathon of culture happening this weekend, Saturday night presents a rare opportunity for those of us shut in with Kleenex boxes on our feet.
Like Congress, but well-deserved, Oliver Francis Gallery is opting for a summer recess, and during its hiatus, has left the space at 209 S. Peak St. in the all-too-capable hands of local ensemble, Dick Higgins. Temporarily re-dubbed "Dick Higgins Gallery," the space has transformed into a summer home -- the Martha's Vineyard of pop-up arts spaces, if you will (just kidding, we won't) -- the collective's exhibition, Dick Higgins at Dick Higgins Gallery opened last weekend. Here's where it gets complicated: Oliver Francis Gallery is hosting a one-night-only video exhibition at Dick Higgins Gallery in the Oliver Francis Gallery space.
Yeah. It's at 209 South Peak St., starting at 9. Just focus on that.
But in the event that you, say, come down with the piles, are in traction, have a mouthy infant or develop spontaneous agoraphobia and can't leave the house, there's another way to get in some artistic brain food this weekend. Alfredo Salazar-Caro, who is presenting the show, announced late Wednesday on Facebook that it will be streamed over UStream, and accessible anywhere the internets roam.
DITHER_DØØM:D∆LL∆S, an extension of a nationally touring project called DITHER_DØØM: ∆N INTRØ TØ M∆¥∆N NEW MEDI∆, is "a series of Experimental shorts about the end of the world curated by Patrick Quinn (Chicago/NYC)" featuring the work of international artists, Jon Cates (Chicago), Kim Asendorf (Germany), Alfredo Salazar-Caro (Chicago/Mexico DF), Mentalcrusher (Korea), Philipp Teister and Alexandra Gorczynski (Austria/Philadelphia) and Max Capacity (US/Internet).
You know how we're always talking about, for Dallas to really grow culturally, it wouldn't hurt to bring in some outsiders? Read this and this for more details, and catch the presentation right here Saturday night at 9.