It was a big, angry crowd, and those in it had come from all over the country,
Texas included
. They had the same goal in mind: to keep then-President Donald Trump in office. At noon on Jan. 6, 2021, the outgoing president launched into a fiery speech.
Much like he had for the previous two months, he insisted that the November 2020 presidential vote had been rigged against him. He decried
"hoaxes and lies" and "a fake election."
He told his followers Vice President Mike Pence could send the results back to the states to be recertified.
Around an hour after Trump started speaking, he told the crowd, "We're going to walk down to the Capitol. You have to show strength, and you have to be strong." Hundreds of Trump supporters, many of them linked to militia groups and the ultra-nationalist Proud Boys outfit, had already headed down to the U.S. Capitol. Some were armed with makeshift weapons. Others brought with them
zip-ties
, ostensibly to kidnap politicians. Outside the U.S. Capitol, flags fluttered against the grey sky.
Then, the riot erupted. When they
raided the U.S. Capitol
, they tore through barricades, smashed windows, and traded blows with police officers. Clouds of tear gas floated above. "Gas, gas, gas," someone shouted through a megaphone.
Nicholas DeCarlo
had trekked some 1,300 miles from his hometown of Burleson, around 20 minutes south of Fort Worth. He'd dressed for the occasion: His hair was parted and slicked back, and he wore a T-shirt emblazoned with the words "MT Media," shorthand for "Murder the Media."
Meanwhile, some in the mob attacked Capitol police officers. Others paraded up and down the halls of the building. Some smashed windows. One flew a
Confederate flag
as he walked around the corridor. A few even made their way into House Speaker Nancy Pelosi's office, ransacking the place and pausing for photos all the while.
"We did it." - Nicholas DeCarlo, alleged Capitol rioter

tweet this
DeCarlo also posed for photos, court records show. Along with Nick Ochs, a Hawaii resident and member of the
Proud Boys group
, DeCarlo took a snapshot with the now infamous
"QAnon Shaman,"
an Arizona-based conspiracy theorist who wore a horned helmet and fur hat and rioted shirtless. On a YouTube livestream video, he celebrated. "As we've been saying all day, we came here to stop the steal," he said. "We did it."
No doubt, you know some of their names.
Jenna Ryan
, the Frisco real estate broker who took a private plane with two other North Texans and celebrated the U.S. Capitol riot online. (She's in a
federal prison camp in Bryan for the next two months
, where she hopes to do
plenty of yoga
.) Luke Coffee, the Dallas actor who allegedly
beat a police officer with a crutch
. Mark Middleton, the
Cooke County man who reportedly attacked police
and is now running for the Texas Legislature. (When the
Observer
asked Middleton why he was running earlier this year, he said only that
"Texas needs true patriots in the House."
)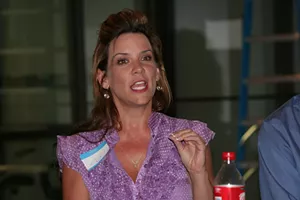 A year out from the riot, more than
700 people have been charged over the Jan. 6 violence
, and as of late December, Texas had the second highest number of alleged Capitol rioters. Florida leads the pack with 80, but Texas racked up 66. The FBI's Dallas office, which covers most of the top half of the state, had nabbed 35 people, said spokesperson Katherine Chaumont, who urged people to keep "calling those tips in."
In early December, Keller resident
Thomas Paul Conover
, 53, was picked up by the FBI and hit with misdemeanor charges for allegedly entering a restricted building and disorderly conduct. "I don't always storm the Capitol of the United States of America, but when I do, I prefer Coors Light," Conover allegedly said in a Facebook video at the time. (He was actually toasting with a Coors Light in the video, screenshots show.)
Less than two weeks after Conover's arrest, the feds picked up two more North Texans, both from Tarrant County. Donald Hazard, a 43-year-old Hurst resident, and
Lucas Denney
, a 44-year-old who lives in Mansfield, stand accused of assaulting police officers during the unrest. The way the FBI tells it, Hazard had been "grappling" with police officers, while Denney "swung his arm and fist" at a police officer and then yanked him "further down the stairs." The month before the riot, Denney had taken to social media to hunt for new recruits for his militia outfit, The Patriot Boys of North Texas.
"I don't always storm the Capitol of the United States of America, but when I do, I prefer Coors Light." - Thomas Conover, alleged Capitol rioter

tweet this
Before the ink started drying on the ballots,
Texas Republicans were drumming up paranoid claims
that the November 2020 vote had been rigged against Trump. Attorney General Ken Paxton filed a flurry of failed lawsuits to have election results overturned in four battleground states.
Some Texan politicians had even shown up to Trump's rally earlier in the day on Jan. 6. "We will not quit fighting," Paxton said at the gathering. "We're Texans, we're Americans, and the fight will go on."
Others were spotted in more politically compromising positions. State Rep. Kyle Biedermann, known for his "Gay Hitler" Halloween costume and
his infamous "Texit" bill
, had been
filmed near the Capitol steps standing among a crowd of Trump supporters
chanting "traitors" at the lawmakers inside the building. Biedermann didn't respond to the
Observer
's request for comment, but the day after the riot, he told a radio station that only a
"few radicals" had "caused the trouble,"
while he and others like him had "marched peacefully on our nation's Capitol to make our voices heard."
In August,
Biedermann denied that it was an insurrection at all
. When Democratic state Rep. Erin Zweiner introduced a bill in the Texas House that would forbid insurrection participants from becoming voting assistants, Biedermann lashed out. "People that attended that rally and attended the Jan. 6 event, you're calling them all insurrectionists?" he asked.
He added, "The amendment is all about the insurrection that you are claiming on Jan. 6, yet you were not there. You don't know what happened. All you do is listen to the liberal media, is that correct? Where do you get your information?"
A year later, critics worry that the political climate hasn't improved much. In Texas and beyond, election denialism has continued unabated. Since early 2021, Texas Gov. Greg Abbott and GOP state lawmakers have repeatedly warned of widespread voter fraud, despite the lack of any evidence to back that claim.
In September, less than nine hours after Trump wrote Abbott an open letter urging an audit of the vote, Texas announced a probe in four counties: Collin, Dallas, Harris and Tarrant. (In Collin and Tarrant counties, news of the
audit caught election officials off guard
, emails recently revealed.)
Facing criticism, Abbott defended the probe. "Why do we audit everything in this world, but people raise their hands in concern when we audit elections, which is fundamental to our democracy?" the governor told Fox News in November.
After hundreds of Trump supporters, white nationalists and conspiracy theorists from across the country stormed the U.S. Capitol, Abbott said violence was "unacceptable" and that the perpetrators "should be punished," declining to directly criticize Trump.
"All you do is listen to the liberal media, is that correct?" - Kyle Biedermann, Texas state Representative

tweet this
Angelica Luna Kaufman, a spokesperson for the Texas Democratic Party, said the state accounts for such a large presence among suspected Capitol rioters because its GOP leaders are "beholden to failed President Donald Trump instead of to the people they've been elected to serve."
"Republican leaders in Texas, like Gov. Greg Abbott, have not only encouraged this kind of radicalism they have brought it to the forefront of their party, and they are directly responsible for its rise in popularity," she said. "Instead of denouncing the riots, they continue to perpetuate the 'big lie' around election fraud in the hopes of gaining popularity among this extreme right-winged base of Trump followers and insurrectionists."
Meanwhile, even as the feds continue rounding up alleged Capitol rioters and
others on the far right
, some experts say Jan. 6 has become a rallying cry. In February, a third of Texas Republicans polled by researchers at the University of Houston
expressed support for the insurrection
.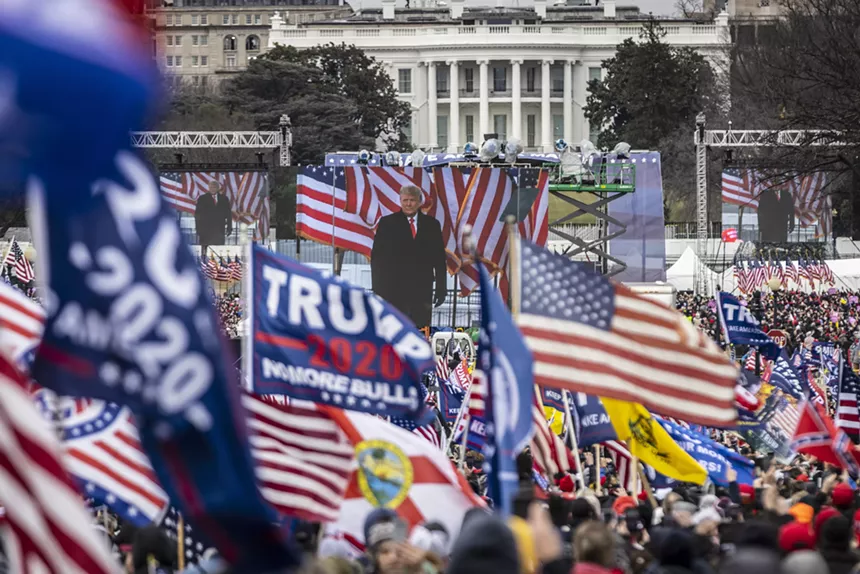 In May, another study found that
nearly three in four Republicans
around the country thought "too much [was] being made of the Capitol insurrection," the
Houston Record Chronicle
reported at the time.
Heidi Beirich, cofounder and chief strategist for the Global Project Against Hate and Extremism, has spent decades researching the radical right in the U.S. and beyond. The way she sees it, the Jan. 6 riot will continue to have consequences.
"In the last year, extremist movements have not waned under the pressure of the DOJ indictments, and some have actually grown or taken root across the country," she said.
With Republicans around the country still trying to relitigate the 2020 presidential election results, Beirich added, "All of this has created a fraught environment [that] we will be facing in the lead-up the midterms that could lead to more terrorist attacks, much as we saw in the lead up to the 2018 midterms. And if the 2024 election is decided by partisan legislatures in various states, I think major civil unrest is a good bet."