Another month has gone by and
another
30 or so restaurants have opened. While there have been whispers (and shouts) about more on the way, we've rounded up the restaurants that are open now, with quite a few first looks to let you know what to expect.
And as always, the good news comes with some sad news too.
Observer
writer Doyle Rader talked to Dominick Oliverie, owner of The
Great American Hero
, about his past four decades serving sandwiches in Dallas and why he's closing. If you want one of their heroic heroes, make sure to stop by before they close at the end of December.
Another closure hit close to home: After 20 years in business,
The Metropolitan Cafe
, a breakfast and lunch spot downtown next to the
Observer's
office, closed up shop after Thanksgiving.
Deep Ellum took a couple of hard hits too. The
Anvil Pub
closed on Halloween after 11 years in business, leaving some of us bereft over the loss of the iconic "F*ckbrunch." Then
Braindead Brewing
and its everyone-hangs-out-here patio closed the day after Thanksgiving.
It's not like you can replace those kinds of locally owned businesses, but Deep Ellum is trying. We checked out
Pop Culture DTX
(2812 Elm St.), a revolving pop-up-themed bar. The current theme called TGIF (it's all about the '80s and '90s) rolled out just after Thanksgiving.
Also in Deep Ellum,
Electric Shuffle
(2615 Elm St.) opened with 17 electric shuffleboard tables that allow up to 20 people to play at one time. Alyssa High covered the menu as well as brunch and happy hour packages that include shuffleboard, food and drinks.
Angie Quebedeaux wrote about the food, drinks and trippy bathrooms at
Hawkers Asian Street Food
(2800 Main St.), which is also in Deep Ellum. This spot is based in Orlando, and there are about 11 other restaurants around the country. They serve popular street food from China, Malaysia and Thailand.
In nearby Exposition Park,
Tarantino's Cicchetti Bar and Record Lounge
(3611 Parry Ave.) is now open serving cicchetti (small plates) and focaccina (small Italian sandwiches). This spot is from longtime Dallas restaurateur Peter Tarantino, who previously owned a spot by the same name in Deep Ellum. They have a full bar and feature local art as well as a record lounge area for their always-spinning turntable.
The
Sugar Factory
(1900 Cedar Springs Road) opened in Uptown, an over-the-top boozy and sugar affair with a strong social media vibe. If you want a flashy birthday party with a $100 ice cream sundae, this is a great option.
Villa Azur
brings French-Mediterranean dinner and big nighttime party vibes to Victory Park.
Not far from there,
Modest Rogers
(3811 Fairmount St.) opened in Oak Lawn; it's much more modest but still buzzworthy. This spot serves Texas-influenced Venezuelan, Spanish and Mexican cuisine from Modesto Rodriguez, whom many Dallasites know from stints at Nonna and Carbone's or his Mo's Plancha pop-ups.
Zack Coutré, CFO of ARG Concepts, shared on his personal Facebook page that
Wits Steakhouse
has started a small soft opening. Wits is the South African steakhouse that's replacing longtime restaurant Oak in the Design District. Reservations through
Resy
are only open through Saturday, but we expect regular hours to be announced soon.
The Restaurants on Lamar at the Omni Dallas in downtown has two new restaurants —
Pegasus Pizza and Hops and Hens
. There can never be too much fried chicken (apparently), and at Hops and Hens, it comes with local beer on draft and lawn games. Pegasus Pizza next door has Neapolitan-style pizza and a full bar.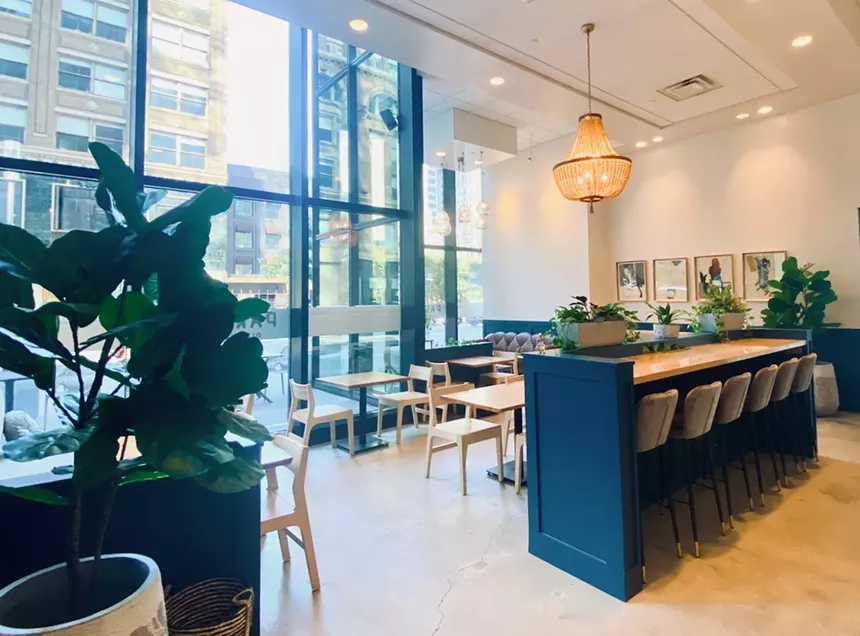 Also in downtown,
Parterre
has opened in Santander Tower (formerly Thanksgiving Tower) in the space that was once home to Ascension Coffee. For those who work or live downtown, Parterre is a go-to spot for everything: breakfast, lunch, dinner and drinks.
We visited
Casablanca
in Bishop Arts (200 N. Bishop Ave.), the beautiful restaurant and bar with a karaoke speakeasy in the back and a large, luxurious patio in front.
We also checked out the newly remodeled
Garden Cafe
(5310 Junius St.), an East Dallas stalwart. The change-up includes a new bar with beer and wine. A new dinner menu includes beef cheek fries and pepper-crusted flat iron steak as well as a vegan alfredo that owner Mark Wooton is over the moon about.
Lakewood Advocate
has the latest on
Mayer's Garden
(2422 N. Henderson Ave.), which recently opened in the former Jake's Burgers and Beer space. This is another vision that took awhile to come to fruition, and we look forward to bringing you a first look at their garden cocktails, beer, wine and casual food.
The Koreatown District got a new cook-it-yourself spot,
Nuri Grill
(2254 Royal Lane), headed by two chefs who moved from Korea to helm the kitchen here. University Park got a new Italian restaurant,
D.L Mack's
(6501 Hillcrest Ave.).
In the burbs, there's a new
Greenville Avenue Pizza Company
location in Richardson. This spot has a full bar, and if you already like their "pizza crack," wait till you try it on the rim of a bloody mary.
Also in Richardson, Michelle Pepping has transformed Tasty Tails into
Chelle's Seafood
. You'll still get seafood there, but at Chelle's it's more East Coast-focused and includes a little Asian flair.
Garland recently got its own
Harvey B's
(6850 N. Shiloh Road, Suite U), a longtime no-frills burger shop in Old East Dallas.
We recently visited
Mad for Chicken
in McKinney. This New York-based Korean fried chicken spot is growing
rapidly
across North Texas.
Desi District
, a top Indian restaurant from Irving, has opened a location in McKinney as well. In Flower Mound,
Sfereco
(120 River Walk Drive) is now open on the River Walk. Primo's MX is now open too, and more restaurants will follow over the coming months.
In Southlake, the modern Southern restaurant
Jellico
has opened in the Westin Southlake Hotel (1200 E. State Highway 114). Arlington got its own
Bombshells
, and Grand Prairie has a new locally owned coffee shop, Billy Joe Coffee Co. in the Farmers Market complex.
Fort Worth Star-Telegram
reports
that the Original Chop House Burger from chef Kenny Mills will move back to its original location as seen on
Diners, Drive-Ins and Dives
. Mills promises he's going to re-create the original and expects to open this spot early next year.